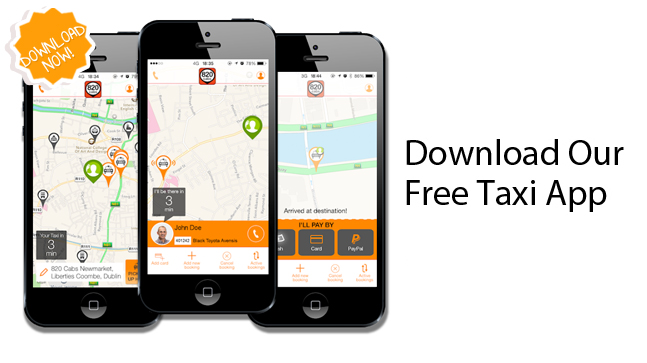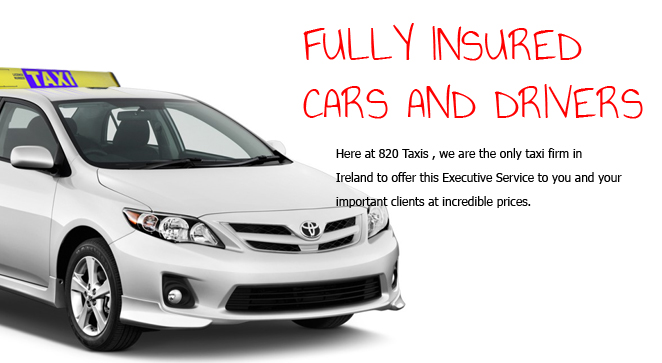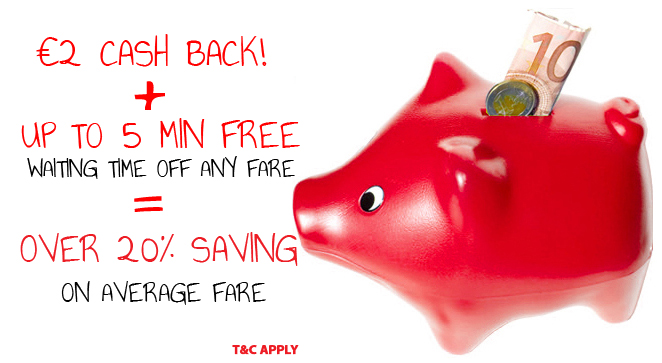 Book a Cab in Easter week and you could win €5 credit for you and a friend!

Terms and Conditions.
To enter the draw:
Book an 820 cab any time in Easter week.
If you win €5 credit you can use it any time between now and the end of April 2014.
You must order by Mobile Phone so that we can send a code with your €5 credit by text.
To claim your €5 credit you must quote the code at the time of booking your cab
You can forward your credit text to a friend and you can both have €5 credit off a cab fare between now and the end of April 2014!
A maximum of €5 credit may be claimed per fare.
€5 credit is not valid with any other offer.
Offer subject to availability.

SAVE ON

AVERAGE 20% OFF

YOUR TAXI FARES!
Here's how it works... When the driver arrives he will wait for up to 5 minutes for free, before he puts the meter on. This is worth around €2.00 PLUS you will get €2.00 cash-back at the end of your journey! This is equal to over 20% off your average fare*.
Yes!!! We are all over Dublin - North, South, East and West ...and that means where you live too!
So how much does 20% save??? Think about it this way... If you're a regular taxi user, and I guess we all are, 20% Discount is the equivalent of, wait for it...

10 weeks free taxis per year!!!

We must be nuts!
When you're looking for an executive-style taxi service which won't break the bank, make us your first and only choice. Our taxi service is perfect for those occasions when you really need to make a big impression, and our uniformed drivers will ensure that your journey is as comfortable and relaxing as possible.
We operate The most Technlogically Advanced Booking and Dispatch system available
Book and Track Your Taxi On-Line with E-booking
We have in-car cameras in selected vehicles for your added security
We provide a Secure In-Car Credit Card payment system
All of our drivers are Fully Uniformed
Taxi Service:
When you're looking for a taxi service which won't let you down, make that call to Eight Twenty Cabs on 018202020. When you come to us, you not only get to enjoy the best fares around, you also have the option of your booking via phone, email, mobile app or live on line which makes for the perfect modern taxi service. Whether you're a resident or visitor in Dublin taxi fares don't have to cost the earth, as here at Eight Twenty Cabs we can transport you to your destination affordably and efficiently. Don't waste your time and money on any other Dublin taxi firm- head direct to us and experience for yourself what so many satisfied customers already have.
Airport Taxi:
Looking for an airport taxi service where you can be sure that you're not paying over the odds? Then you've come to the right place, as when you book with Eight Twenty Cabs, you can be sure that you're getting the best deal around. Our airport taxi service effortlessly offers a much sought-after combination of punctuality, reliability and affordability.
Party Bus:
Why wait until you step into the club to get your partying started when you can book a party bus and get the party started without delay?! Booking a party bus will get you in the mood for a night of serious fun- leaving you more than ready to hit that dance floor. We've got great Fourteen seater minibuses from as little as €5.00 per head, for runs of up to 15 km. Our party buses are kitted out with party lights, latest music hits - ideal for Parties, Debs, Special Events - Designed for FUN! (Seats up to 14 people. Minimum charge €70.00 covers 15km trip)
Taxi Dublin:
When you're looking for an affordable taxi, Dublin simply has no better than Eight Twenty Cabs. We pride ourselves on offering permanently competitive rates, and wherever you're going, our discount deals will make it all the more purse-friendly. When it comes to effortlessly and affordably booking a taxi, Dublin comes direct to us.
Mini-buses and Coaches:
Our buses are also available for group trips, Airport runs etc with extra luggage space for say, your sports equipment or whatever . The cheapest way for you and your crew to get around the city!
Eight Twenty Cabs' Taxis are not only "Dublin's Friendly Taxi Company" we are also "Dublin's Low Fare Taxi Company"... Always!
Remember... our taxi service consistently delivers the cheapest taxi rates with on average 20% off every fare!
It goes without saying that we operate in line with all the rules of the Taxi Regulator.
So... if you want to travel cheap call 8 20 20 20, Your Discount Taxi Company!

*Average fare in Ireland is €15.00 as reported by Goodbody Economic Consultants in their report titled "Economic Review of the Small Public Service Vehicle Industry" in 2009.